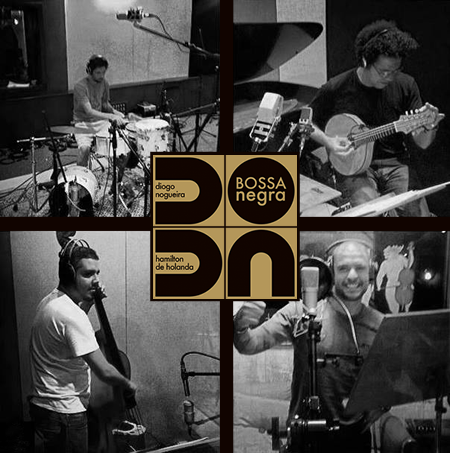 Release
Diogo Nogueira meets Hamilton de Holanda in the album Bossa Negra, a project by two of the most prominent musicians in the new generation of Brazilian music.
Diogo Nogueira, son of legendary samba* songwriter João Nogueira, has been enchanting Brazil with his charisma, voice and DNA. He is one of the best-selling music artists, has his own TV show and over 3,5 million fans in facebook.
Hamilton de Holanda is a composer and multi-award winning instrumentalist with several Latin Grammy's nominations. His musical origins are in the tradition of choro**. As the creator of the 10-string mandolin technique (usual mandolins have 8 strings), Hamilton carries Brazil in his fingers with the erudition of Villa-Lobos, the genius of Pixinguinha and the sophistication of Tom Jobim.
Bossa Negra (2014), inspired by the classic album "Afro-sambas" (1966) - Baden Powell and Vinicius de Moraes, presents a mix of old hits and original songs. Portraying the synthesis of the improvisation of choro, the swing of samba and the relaxing mood of bossa nova.
Bossa Negra represents a fusion of our ancestors' music. The combination of European music by Portuguese colonizers and African rhythms brought by slaves with the tropical heat that they encountered when they landed in our shores. Diogo and Hamilton first met in a duo concert, in Miami (2009). Although they had not planned a set list, they improvised. That was when they first talked about doing something together and the name "Bossa Negra" was spotted right away. The sole agreement was, if they would ever make an album, they should definitely create an original repertoire.
All tracks feature an original ensemble: Hamilton de Holanda (10 string-mandolin), Diogo Nogueira (vocals), André Vasconcellos (Acoustic bass) and Thiago da Serrinha (percuteria - a set of samba school percussion instruments like surdo, samba's snare and repique drums).
Bossa Negra presents 13 songs rich in harmonic and rhythmic creativity. The album is a mix of authoral compositions written by Diogo and Hamilton with the musicians and their producer Marcos Portinari, along with some classic tunes by icons of Brazilian music. Like the cool song "Desde que o Samba é Samba" by Caetano Veloso, which inserts samba in the black tradition. The romantic drama "Risque" by Ary Barroso, a touch of hope for better days "Mundo Melhor" by Pixinguinha and Vinicius de Moraes, "Mineira" by João Nogueira and Paulo César Pinheiro, and "Samba de Arerê" by Arlindo Cruz and Xande Pilares. Arlindo Cruz is also present with Fred Camacho in "O Que é o Amor".
"Salamandra", previously unreleased song, another from one of the most prominent duo composers, João Nogueira and Paulo César Pinheiro, it's a dive into the afro-sambas.
While the song "Tá" has Candomblé`s drums, "Bicho da Terra" is a partnership of Hamilton and Diogo with Bruno Barreto and Wallace Perez in a touching melody. A curious fact about the song "Brasil de Hoje", it was written using WhatsApp. "Doce Flor" is such a delicate song, that it sounds like a typical bossa nova, full of swing. "Mais um Dia" does the same thing but it is a more traditional samba.
Such a rich album, full of nuances, sounds and matters, ends in the simplest possible way, "Até a Volta" written by Hamilton, Diogo and Marcos Portinari, a song that reminds the legend Dorival Caymmi. Because "Bossa Negra" in its background, beyond the swing and percussion, is just that, a Brazilian feeling translated into music.
Bossa Negra is the sun, the beach, the football, the mountains, the streets, the bar, the fair, the square, the children, Rio, Brazil, that's you and me. Enjoy!
"I really like it, it`s a beauty! Very original...This repertoire is Brazil" – Caetano Veloso.
Bossa Negra has been regarded by the local media as "album of the year", "one of the best samba albums ever made" and "...a new Brazilian music genre" – O Estado de São Paulo.
* Samba: the most popular musical Brazilian genre
**Choro:popularly called chorinho, is an instrumental Brazilian music genre originated in 19th century in Rio de Janeiro